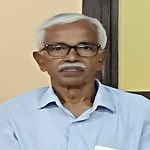 Dr. Bhabatosh Saha
PRESIDENT
PRESIDENT SPEAKS
Tripura Board of Secondary Education (TBSE) constituted under TBSE Act, 1973, began its journey on 1st January, 1976 with Sri A K Dasgupta, Ex-Director of Education at its helm in a rented house along with 23 other employees.
TBSE shifted to its present location, a 4-storied Govt. building at Pandit Nehru Complex in 1992. In 1976 it conducted its first Public Examination – School Final Examination (Old Syllabus), Madhyamik Pariksha (SE) and Higher Secondary Examination (Old Syllabus) with total candidates around 6,500 only. Till 1975, students of Tripura used to take exams under West Bengal Board of Secondary Education.
This year (2020) 77,845 students appeared at Madhyamik, H.S.(+2), Madrasa Alim and Madrasa Fazil Examinations taken together. In the early years most of the result related work was done manually – mark-sheets were issued several days after publication of result and certificates were issued six - twelve months thereafter. Now most of such work has been computerised so much so that mark-sheets and certificates are issued to students on the date of publication of result itself. Our old records are being digitalized.
Currently student can procure their old marksheets/certificates from Digilocker. We hope to collect all student related data this year online, including submission of application of students for appearing at examination. TBSE is the only Board in the country which has introduced Centralized Evaluation System from its very inception. Our motto is "Uniform Evaluation of Answer Scripts" and "Error free publication of Result".This is all due to active cooperation of all our employees.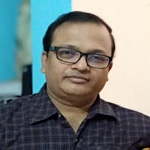 Dr.Dulal Dey
SECRETARY
FROM SECRETARY'S DESK
Tripura Board of Secondary Education (TBSE) is the name of a pioneer body in the field of Education System of Tripura, conducted its first Public Examination with total candidates around 6,500 only in 1976. In early days we faced many challenges and it was a bouncy journey with ups and downs. However this has not diminished our spirit and enthusiasm.We have achieved many land marks and mile stones. We at TBSE comprehensively address all the constraint for conducting Madhyamik and H.S (+2 Stage) Examinations efficiently; we care for uniform evaluation and error free publication of result.
At present 1062 schools run under TBSE affiliation that are cultivating the holistic development of a student through excellence in education. We want every child of our princely state to grow up with education that they will light up the world.
As Nelson Mandela said, "Education is the most powerful weapon which you can use to change the world".